Exposure And Safety Estimation
(EAS-E) Suite
For thousands of organic chemicals requiring ecological and human health assessment the information to conduct the assessment is quite limited. Models are required to address data gaps and support decision-making. In some cases, t
he pace of scientific advancements (data sources and tools) outpaces the capacity for knowledge transfer to stakeholders. 

A general lack of expertise and time to parameterize and apply exposure estimation tools by experts and non-experts limits their implementation to aid decision-making. These issues pose challenges towards the implementation of new and existing techniques for practical applications in chemical assessment.
Here we introduce the Exposure And Safety Estimation (EAS-E) Suite platform to bridge the gap between evolving scientific research and chemical assessment challenges and to aid the application and evaluation of data sources and tools for exposure, hazard and risk estimation for all stakeholders. An overview of part of the vision for EAS-E Suite is summarized below.
The EAS-E Suite platform is envisaged to evolve over time. We are actively seeking stakeholder partnerships to enhance and expand the EAS-E Suite platform. If you are interested in staying informed on EAS-E Suite advancements, please sign up below
Integrates curated databases, validated QSA(P)(U)Rs, and environmental fate and exposure models

AUTOPARAMETERIZES: built-in fate, bioaccumulation and exposure models from SMILES notation (or CAS or name), while allowing options for user-preferred inputs of select parameters

MODULAR: can choose to use the entire flow (e.g., from production volume to exposure and safety

estimation) or just a particular model (e.g., RAIDAR-ICE for indoor fate and human exposure)

Can be implemented on a server (e.g., www) or behind firewalls or stand-alone

Can be customized to suit end-user preferences and assessment challenges

Can be expanded to include other models, tools and databases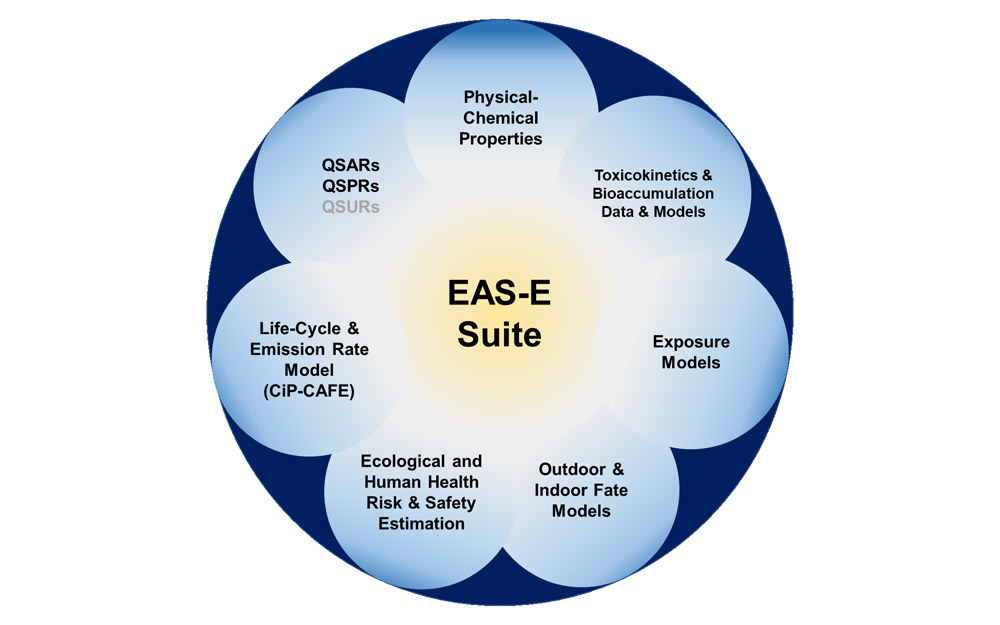 If you would like to be informed when EAS-E Suite will be on-line, please register below:
Limitations of liability and disclaimer of warranty
ARC Arnot Research & Consulting Inc. and all associated collaborators do not guarantee, warrant, or make any representations, either expressed or implied, regarding the use, or the results of the use of the materials provided with regards to reliability, accuracy, correctness, or otherwise. There are no warranty rights granted to users of the models or databases provided.
Users assume the entire risk as to the results and performance of the models and databases. ARC Arnot Research & Consulting Inc. and all associated collaborators are not liable under any circumstances, for any damages whatsoever, arising out of the use, or the inability to use, the models and databases provided, even if advised of the possibility of such damages.